Managing your reservations
My reservation is not delivered, can SmartHOTEL assist?
A reservation is made via a connected bookingsite but the reservation is not present in my PMS
It can happen that a reservation is not delivered. To establish which party can assist you best, we advise you to follow the flowchart below.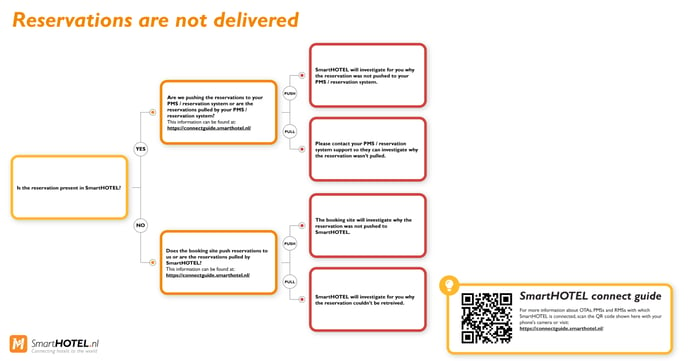 Happy to help!
Did the flowchart direct you to SmartHOTEL? We are happy to help!
Please send us an e-mail with the information below:
Bookdate
Bookingsite
SmartHOTEL's reservation ID or the bookingsite's ID.
In which system/ which systems is the reservation missing?
In case the reservation is present in SmartHOTEL extranet but not in your PMS it may be possible to offer the reservation again to the PMS via the resubmit functionality. More information on this functionality can be found via this link.