Dealing with incorrect reservations & no-shows
What should I do if I have an overbooking
It can happen on occasion that you receive an overbooking. SmartHOTEL can help you in specific ways with resolving the situation.
We advise you to review the following flowchart in order to quickly decide which party is the best part to assist. More information on how to check the logs can be found at: https://helpguide.smarthotel.nl/how-can-i-check-the-logs-myself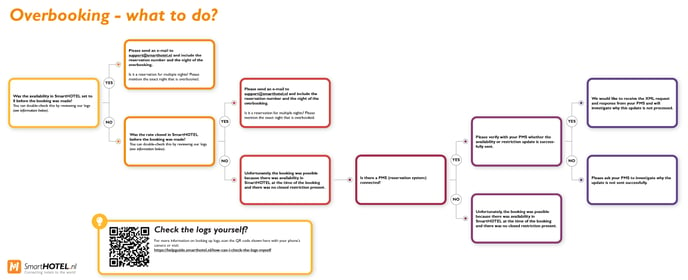 Happy to help!
If the logs state that the availability was 0, or that the rate was closed before the booking, we are happy to assist via the method shown above.
Contact with guests
We do not contact the guests, this is something you will have to do yourself. We have various reasons for this, but it is mainly because you have the most expertise of your hotel and its surroundings.