Should you find there is a discrepancy in your availability, rates or restrictions, the first thing to find out is where the difference is coming from.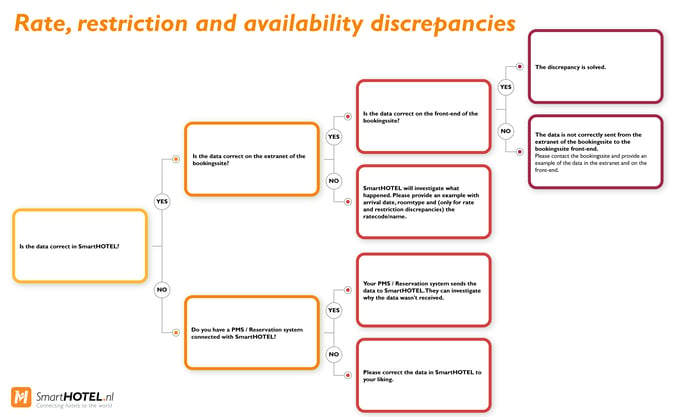 Please follow the guidelines below to solve your discrepancy.
A discrepancy between your PMS and SmartHOTEL
Try to perform a refresh/resync from your PMS to see if this resolves the issue. What is a refresh?
If the above does not work, then please contact the sending party (PMS or interface) of the failed message. This party will then investigate the logs for you. In case required they can contact SmartHOTEL with their findings to ask for further investigation.
When there is an issue or delay in the interface between your PMS and SmartHOTEL, you can manually change rates and availability to ensure you get the essential dates updated. Please only do this in case of urgent adjustments and kindly note that the PMS is leading and is able to overwrite SmartHOTEL.
A discrepancy between SmartHOTEL and the OTA extranet
Please provide the support team with the following information:

Date(s) for which you experience a discrepancy
Roomtype(s)
Ratetype(s) (in case of discrepancy in prices or restrictions)
Messagetype (availability, restriction or rates)
Exact value (what is the current value and what should it be)

With this information the SmartHOTEL support team can investigate what caused the discrepancy.
Some OTA's don't accept certain restrictions. To see if the affected OTA supports the restriction, you can check out the supported functionalities in our
OTA Guides
.
A discrepancy between the OTA extranet and their front end website
There can sometimes be a delay in OTA's updating their front-end website with the information that is in their extranet. Please take this into account when performing your checks.
If the data is not showing in the OTA front- end after I hour, but is present on OTA extranet, then please contact your account manager from the affected OTA since this is an internal distribution error/ delay.